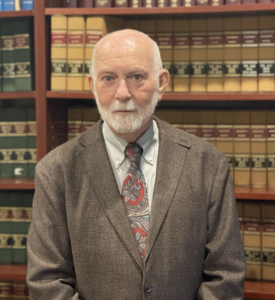 Since 2007, when he retired from the judiciary and became of counsel to the law firm of Seder & Chandler, LLP, he has settled hundreds of disputes involving practice areas including corporate governance, construction of residential and commercial buildings, family financial disputes, will contests, court appointed Special Master in the Superior Court, and has served on mediation and arbitration panels for the American Arbitration Association where he is a certified arbitrator.
He has recently completed a term as Chairman of the Real Estate Bar Association of Massachusetts Arbitration and Mediation Program. Currently, he is also affiliated with Case Closed of Massachusetts and has served as expert witness on corporate governance, professional malpractice, and sanctions in both state and Federal courts.
For a time between 2012 and 2014, he served as special negotiation counsel for a major corporate chain of supermarkets, which was enmeshed in complicated stockholder minority derivative litigation.
He holds a life membership in the American Law Institute and served as a faculty member of the National Judicial College at the University of Nevada, Reno Campus, as a trial judge. He has been a lecturer in trial and appellate practice for the Massachusetts Continuing Legal Education Institute and has offered numerous law review articles for the Massachusetts Law Review, the New England Law School Journal, and a Bench Book for District Court judges, as well as an Appellate Practice Manual for the Appeals Court of Massachusetts. His most current publication – as will appear in the Massachusetts Law Review – deals with the role of special counsel in stockholder derivative litigation.
He regularly consults on matters involving non-competition agreements and disputes, employment policies and procedures, non-profit corporate governance, and appellate and trial matters.
He has argued cases in the Superior, Appeals, and Supreme Judicial Courts of Massachusetts. He has also arbitrated complex civil cases in those courts and has participated in the resolution of public and private sector disputes in both mediation and arbitration. Along those lines, he holds a Certificate of Completion of Arbitration Fundamentals and Best Practices for the American Association of Arbitrators and has completed a course at the Harvard Law School in negotiation and settlement practices.
Judge Greenberg is admitted to the bar of the Supreme Judicial Court of Massachusetts, the United States District Court for the District of Massachusetts, and the United States Court of Appeals for the First Circuit. He is a life member of the American Law Institute and the Worcester County Bar Association where he formerly chaired the Superior Court Trial Committee and currently is a member of the Employment/Labor Law Section.
Education: Judge Greenberg is a graduate of Clark University (BS in sociology and government, 1958), and Boston University School of Law (LLB, 1961). Subsequent to graduation, he served as an appellate panel member for the National Moot Court Competition at Boston University, a Supervisor of the Appellate Mediation, and was a former member of the Massachusetts Trial Lawyers Association.